Hi-Visibility & Enhanced Visibility Uniforms
Hi-Visibility & Enhanced Visibility Clothing
Thousands of workers are exposed to potentially harmful working conditions every day, whether it's running heavy equipment on a construction site or repairing a pothole on a federal highway. It's important that workers can always be seen to avoid serious or fatal injuries while on the job. AmeriPride offers a variety of quality Red Kap® Hi-Visibility and Enhanced Visibility apparel (also known as Hi-Vis or High Visibility) that makes workers not only safe, but compliant.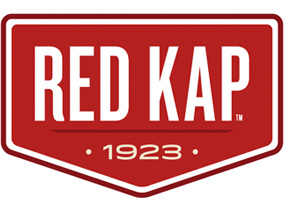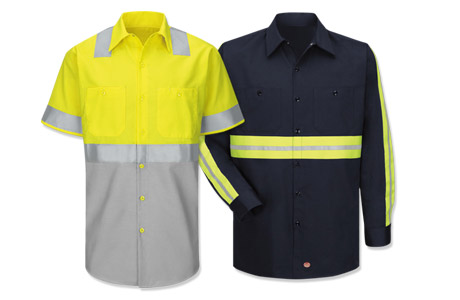 SHIRTS
Real protection for real exposure keeps you protected all day and night.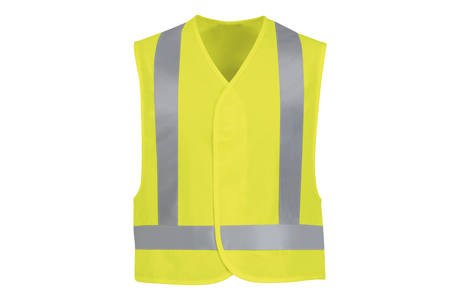 VESTS
Be seen in our roomy, Hi-Visibility safety vests, available with and without sleeves.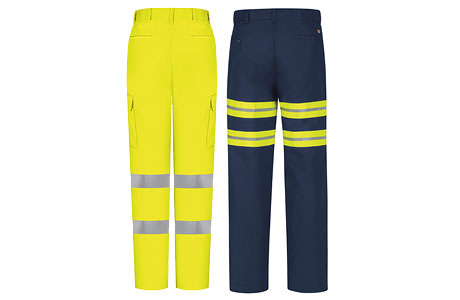 PANTS
Stay visible and comfortable in our durable, heavy-duty work pants.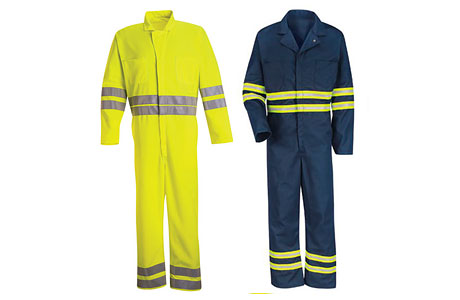 COVERALLS
Designed for maximum visibility, our coveralls ensure safety and comfort.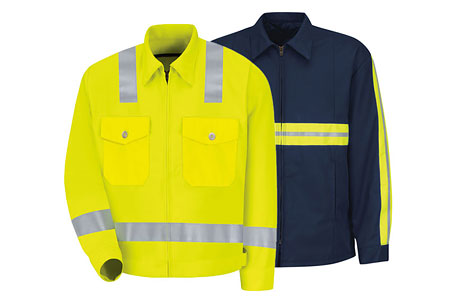 JACKETS
Stay safe, dry and warm in our assortment of Hi-Visibility and Enhanced Visibility jackets and coats.
---
Click the link below to see how the correct visibility impacts how you are seen throughout the day.
Legally, the national rules and regulations for worker visibility must be followed whenever employees are exposed to potentially dangerous situations in low-light situations. These regulations are more specific and stringent than you may expect. For instance, many reflective or bright work uniforms are "Enhanced Visibility" uniforms, but not Hi-Visibility uniforms. This means they provide better visibility but do not meet American National Standards for Hi-Visibility Safety Apparel and Headwear.
It can be tough to track down uniforms that both meet all the required standards and are comfortable, flexible and durable enough to be practical on-the-job. That's why AmeriPride stays on top of the most current national standards for both Hi-Visibility and Enhanced Visibility, and stocks only the highest quality uniforms that measure up to those standards. When you partner with AmeriPride, not only are you legally and ethically covered, you get the highest quality uniforms anywhere in the industry.
If you're interested in the national standards for worker visibility or want to figure out if you're currently complying with them, see the technical descriptions below. If you're still not sure whether or not you need Hi-Visibility (and not just Enhanced Visibility) uniforms, please feel free to reach out to us with any questions.
---
Hi-Visibility Clothing Laws
The Final Rule, 23 CFR Part 634 Worker Visibility, was passed on Nov. 18, 2006, and took effect on Nov. 24, 2008.
The Rule states that all workers within a right-of-way of a Federal-aid highway who are exposed to traffic or to construction equipment within the work area shall wear High-Visibility apparel that must meet Performance Class 2 or Class 3 requirements of ANSI/ISEA 107-2015.
The Federal Register Final Rule and revised document of the 2009 Manual on Uniform Traffic Control Devices (MUTCD) was released on Dec. 16, 2009.
The Rule states that mandatory use areas are expanded beyond Federal-aid highways and will require all workers on or near the roadway right-of-way to wear high visibility safety apparel that meets Performance Class 2 or 3 of ANSI 107-2004 or equivalent revisions. The Federal Highway Administration has issued a formal interpretation recognizing the 2015 edition of ANSI/ISEA 107 as meeting the requirements of 2009 MUTCD.
---
ANSI/ISEA Apparel Standards
The American National Standard for High-Visibility Safety Apparel (ANSI/ISEA 107-2015) is a standard established by American National Standards Institute. Construction, maintenance, utility, emergency responders, airport ramp personnel and other workers are routinely exposed to the hazards of low visibility while on the job.
ANSI 107-2015 now covers ANSI 107-2010 and 207-2011. ANSI 107-2015 has also added new target worker groups O and R to create a broader range of hi-visibility safety apparel (HVSA), which helps provide safety from a broad range of potential hazards for both managers and safety professionals alike. ANSI now includes the Type O category, which requires protection from HVSA for workers who may come into contact with a vehicle moving at 25 mph or less. Additionally, a revision to the minimum area requirements for reflective materials now allows for smaller-sized garments that remain in compliance with ANSI.
Click here for ANSI/ISEA 107-2015 garment classifications.
---
What is Enhanced Visibility?
Enhanced Visibility garments are designed to improve wearers' visibility, but do not meet ANSI/ISEA 107-2015. This could be because they do not have reflective striping for nighttime visibility, or because they have body fabric or reflective striping that does not meet ANSI/ISEA 107-2015 requirements. The background material is to be highly conspicuous, but not intended to comply with the requirements of ANSI/ISEA 107-2015 standard for retro-reflective material. Typically these garments are worn by workers in a lower risk environment.
We're Here to Help!
Call 800-750-4628 for the branch nearest you or click below to contact us.